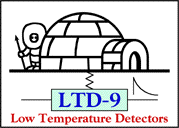 9th International Workshop on
Low Temperature Detectors

Madison, Wisconsin, U.S.A.
23-27 July, 2001
---
LTD-11 Coming up!
LTD-11 will be held at the University of Tokyo, July 31 -- August 5, 2005.
LTD-10
LTD-10 was held in Genoa, Italy, July 7-11 2003.
Results from LTD-9
Unsorted viewgraphs. We are currently working on organizing the viewgraphs that were presented at the workshop. In the meanwhile, here is an unsorted list of most of them. If you have a slow connection, be aware that the size of this web page is about 1 MB.
The International Workshops on Low-Temperature Detectors are held every two years and provide an international forum for discussing recent research and development in the area of cryogenic radiation and particle detectors.

This ninth workshop was co-hosted by the University of Wisconsin and NASA's Goddard Space Flight Center.
Topics included
device physics
experimental achievements
fabrication technology
read-out techniques
cooling systems
dark matter searches
neutrino physics
laboratory and industrial measurements
astrophysics at all wavelengths from microwaves to gamma rays.
Downloads
Poster (11x17, 1.2MB PDF).

First announcement (24K PDF).